Just stoppin in the share my most recent finished painting:
"Elephantess"
Original acrylic painting by Chelsea Rose
I cant believe it took me so long to finish her! I started this one Sept. 1st. which means its taken me almost 2 months to complete. I think thats a testimate to how busy things have been.
This painting is loosely inspired by Lakshmi, Hindu Goddess of fortune. She is often depicted with beautiful elephants by her side but in my version I melded Lakshmi with her elephant counterparts. Her old fashioned, fancy aristocratic dress and top hat are meant to communicate her abundance/ prosperity/fortune. I tried to incorporate a couple of the traditional symbols associated with the Goddess Lakshmi: the Lotus in her hand( evolution), Gold on the lotus, dress, in her eyes(prosperity), red/magenta/pink dress(creative activity), elephant head(wisdom, purity, charity) and peacock feather in her hat(transmutation, eternal knowing and truth.)
It was fascinating taking the time to research and get to know Lakshmi. I had hoped to finish her in time for Diwali Day when she is often worshiped/celebrated but that didn't go as planned.
Anyhoo, I plan on releasing some 8"x10" prints of her soon, so keep an eye on
my etsy shop
.
Speaking of prints...I recently released a new one: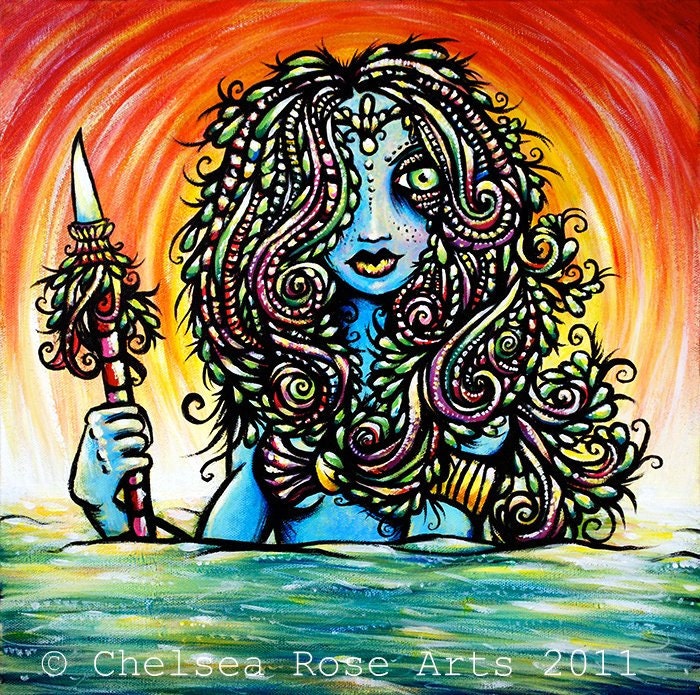 "Goddess of the Hunt"
original acrylic painting
8"x10" prints now available for $15
here
.
And here is one of 9 art pendants up for grabs right now:
The art used in this pendant is an archival giclee print of my original acrylic painting "Mistress and the Orb"
Let this pendant serve as a thing of beauty or work as a good luck charm of sorts, stimulating your drive to explore the majestic and mysterious.
Available for $10
here
.
More comin soon!
Much love,
-Chelsea Rose