A lot has happened since my last update, so I hope you'll bare with this lengthy post of mine.
Fall has arrived and I am finding the colors of the trees and their rainbow leaves fluttering in the wind to be soooo hypnotic. Yes, being an absoulte color junkie autum is easily my most cherished time of the year and I am feelin very inspired.
However the chill is makin its way in, so I was quite pleased to find myself doing some live painting/demoing inside the warm an cozy, newly opened Portland Saturday Annex Shop last weekend:
You may be wondering what is this "Portland Saturday Market Annex shop" I speak of.
Well its an amazing drool worthy shop housing handmade art, clothing, pottery, jewlery and a billion other hand made items from members of the Portland Saturday Market here in Oregon. You will find a few of my original acrylic paintings for sale inside along with some prints and art pendants of mine. I highly suggest buyin handmade for the Holiday's this year, and this is the spot. Its located @ 600 SW 10th Ave. Portland, OR Corner of SW 10th & Alder in the Galleria Building @1pm.
Check it out
!!
So yes...I started a new mermaid painting at the Annex( as seen in the above photos.) Take a look at a a close up "work in progress" pic of my mermaid's face:
...Just getting the first layers of color down. More painting progress photos soon to be posted, so keep an eye out.
Also quite excited to share with you my most recent spoken word poetry collaberation with Bone and All titled "Chaos Creature" :
"Artist Chelsea Rose, whose words conjure and evoke strange truths and creatures from the depths of the sacred and unknown, leads an exploration through consciousness and evolution with mind melting psychedelic tracks adorned with her poetic spoken word."
There are four tracks to this podcast.
Take a listen
!
As far as my etsy shop goes, I just released a new print for sale: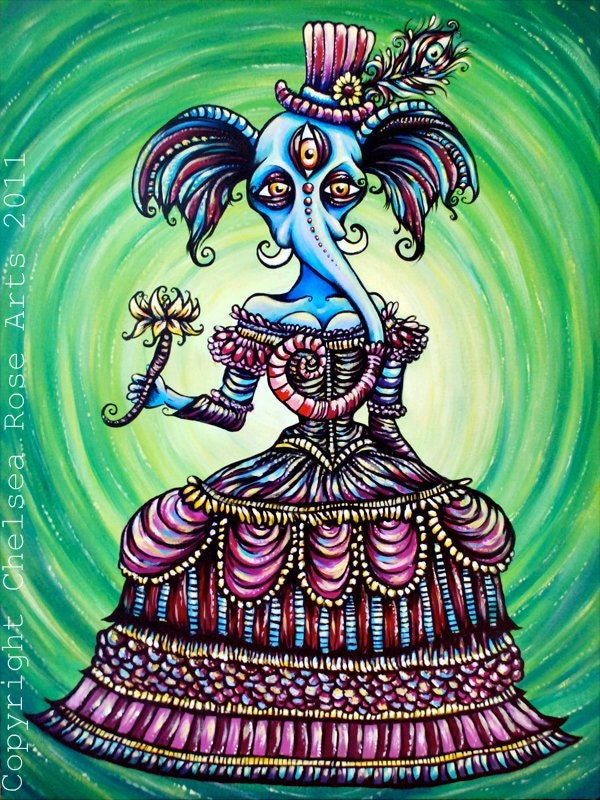 Now selling 8"x10" giclee prints of my most recently finished acrylic painting "Elephantess" for $15
here
.
So yes, lots of stuff happning. And if you are in town catch me downtown this weekend selling my work at the
Portland Saturday Market
. Come say hi, hang out and collect some art.
Much love and light,
-Chelsea Rose