Hi Lovelies,
This weekend was pretty fun and productive. On Saturday I did a live painting gig at a nightclub in downtown Portland.
The event was called "The Fifth World"- featuring the music/dj stylings of Thriftworks, Sporeganic, TreyZilla and Spekt1n" Teds@ Berbati's Pan on sw 2nd street from 10pm-1am.
Bea Ogden
of
Cloudbreak Productions
did a great job curating and organizing the art/artists for the event.
I was painting in the Tea room:
Snapshot taken before dawning my painting apron. I had several pieces displayed around the room along with works of
Danny Ebru
and
Andrew Zeutzius
( who was also doing live painting in the tea room!) The morning before I painted the background of the canvas pictured on the easel here... just started out with an India ink outline.
Painting the night away to the deep throb of the bass.
Progress shot taken near the end of the night...got a lot of work done!
This was what was going down in the main room as I worked:
Inside the dance room there were a other wonderful artists on display doing live painting:
Nemo Boko
,
Violet Page
and
Sam Arneson
. Was so much fun to watch them cultivate their artly peace while embedded in the chaos of all that movement and sound.
---
...It was a late night for me! So on Sunday I slept in and spent the rest of the super rainy day off snug in my home studio space painting:
Detail shot of the shiny mermaid butt and triple eye spine. Fun stuff!
Hmph....my "in progress" table is getting rather crowded. I normally work on one piece at a time. Dont know whats gotten into me!
---
In other news. We are quickly selling out of art posters via the
blowout poster SALE
we are having in our online shop!
(Your Body is Your Temple-Goddess in All of US body art photography)
...There is only one poster left of the print above "Your Body is Your Temple" and it can be yours for only $10( price was slashed from $20.) Snatch it up
here
.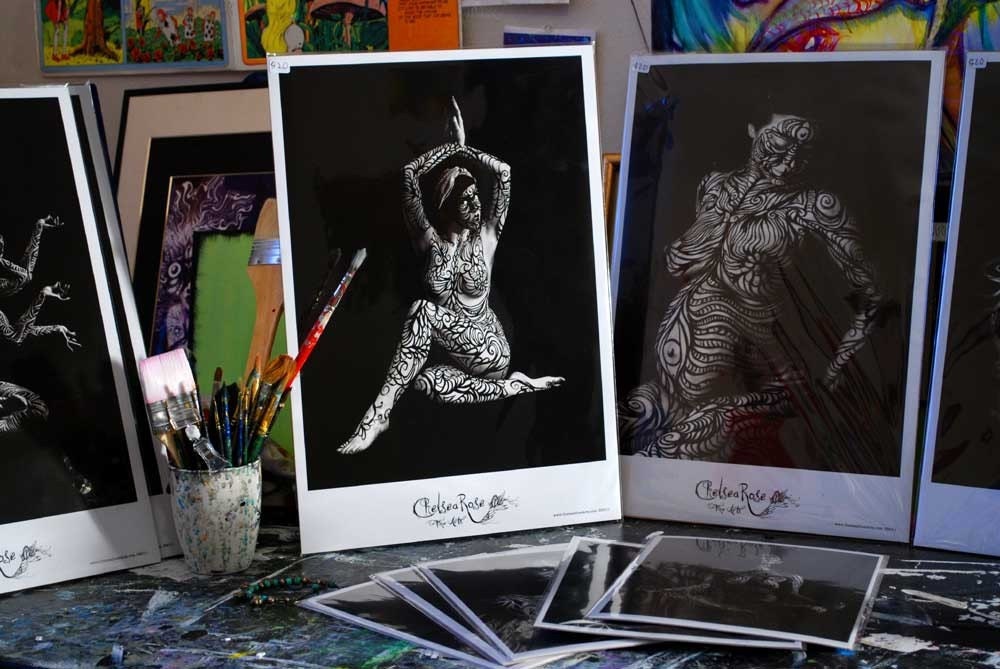 You'll find more posters from the "Goddess In All Of Us " series + poster prints of my acrylic paintings and more...all on sale till supply lasts.
Why would I do such a thing?
Well, I am discontinuing the poster print size and hoping to get rid of the stock I have.
So,
check out my etsy shop
and grab these beautiful posters up before they disappear!
Love and Light,
-Chelsea Rose